7-26-10
Baybah decided to check out the synopsis of Hubs Sci-Fi book this morning. I guess he did not like what he read, because not long after he decided to try to eat it. I wonder when the need to put everything in his mouth is going to go away?!
_____________________________________________
Welcome new hoppers! Please leave a comment so I know you stopped by! I love new followers and love to follow back!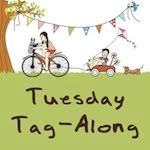 Lolo is the owner and writer for Crazy About My Baybah. She is a mom that is crazy about her family, art, photography, getting fit, Disney, and living in Las Vegas.
Latest posts by Lolo (Posts)