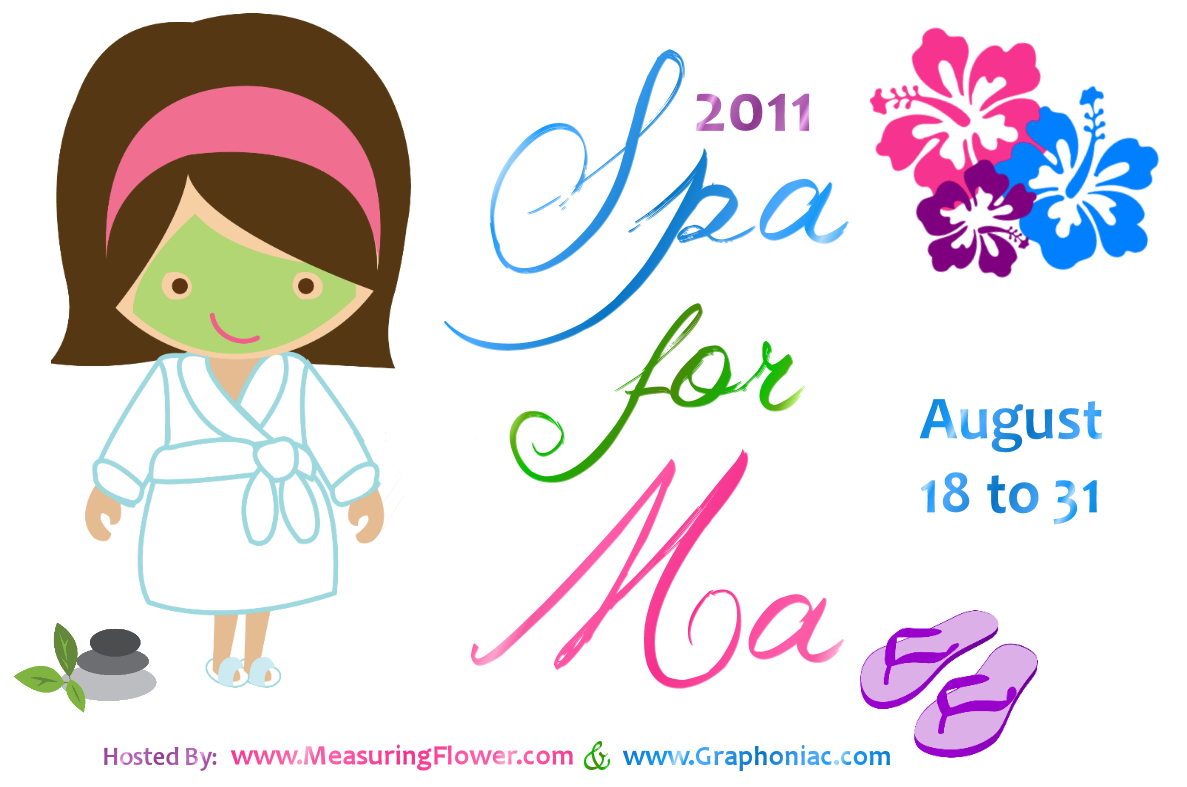 I am so excited to be participating in another fun event, Spa for Ma! This fun event takes place from now until August 31st and is hosted by
Measuring Flower
and  Graphoniac. There are 75 blogs participating, and each are giving away great prize packages just for Ma!  When you finish entering here, make sure you head on to the next bog in the hop!
I am excited to tell you about my Spa for Ma sponsor clickR.  ClickR is a naturally pure and completely vegan skin care line that is strong enough for breakouts yet gentle enough for the most sensitive skin.  Each ingredient that is put into clickR comes from plant or mineral origins, so that it is not only seriously effective, it's totally natural.
clickR products are formulated without:
Artifical colors or fragrances
Benzoyl peroxide
Parabens or sulfates
No animal testing whatsoever
ClickR has 3 skin care collections.  No More Derma Drama for acne prone skin, Figure it Out for daily healthy skin, and Easy Karma that helps relieve the stress on your eyes caused by over use of today's technology.  ClickR has generously offered one lucky Crazy About My Baybah winner a gift pack of 3 items from their Figure it Out skin care line that is worth $110!  These products are for all skin types, even sensitive ones.
This shimmering cleanser tightens pores, evens out skin tone, and increases absorption of beneficial blemish (or any other) treatments.
Firms – tightens pores while calming irritation and releasing impurities
Fortifies – improves moisture retention and balances PH
Fades – lightens uneven pigmentation in scars (or even stretch marks!), smoothes those faintly starting lines
This oil-free daily moisturizer shields you from sun and environmental assault.
Shields – denies access to UVA & UVB rays and environmental pollutants
Saturates – improves moisture balance and retention
Stimulates – infuses skin with oxygen to energize blood flow
It's a night cream you smooth on, crash, and awaken looking refreshed, radiant and beautiful.
Efficient – tones and smoothes, disinfects and moisturizes
Effective – nourishes, energizes and revitalizes skin cells
Easy – repairs damage and reveals radiance overnight
ClickR Skin care infuses the best in nature with the best in beauty.  Always vegan, each element is here for a reason- to create incredibly effective, gentle, fast-acting skin care, while using only the most purposeful ingredients skin craves.
You can purchase all of the ClickR products online at shop.clckr.com or at select Sephora stores.
Enter for a chance to win the Figure it Out skin care prize package using the Rafflecopter entry form below.



Disclosure:  ClickR sent me an item fore review.  All thoughts and opinions expressed are my own.
Lauren is the owner and writer for Crazy About My Baybah. She is a mom that is crazy about her family, art, photography, getting fit, Disney, and living in Las Vegas.
Latest posts by Lauren Elise (Posts)